Sale!
Nervous Dog Bandana
£7.98 – £12.30
We understand that every dog doesn't like other dogs or people.
We also recognise that not everyone always pays attention to a standard nervous dog bandana.
Which is why we are stocking these tongue and cheek bandanas to support your dog in getting the space that they need.
These are available only in the colour as we are big support of the yellow dog uk charity who are trying to bring awareness to the public that if you see a dog wearing the colour yellow you should give them some space.
Please be aware that orders will take two weeks to arrive under testing as all are handmade to the highest quality.
Size guide
Small – Up to Cocker spaniel in size
Approx 17.5cm length, 13.5cm drop.
Medium – Springer spaniels, Young/ Small Labradors, French Bulldogs,
Approx 30cm length, 20cm drop.
Large – Bulldogs, Basset Hounds, Boxers
Approx 35cm length, 27cm drop.
Extra Large bandana – New Foundlands, Great Danes and other very large breeds
Approx 43cm length, 30cm drop.
Customer Reviews
11/02/2019
Carole H.
GB
I recommend this product
Love this
Absolutely love it, it creates the reaction to thats needed, and also makes people laugh
09/25/2019
Jonathan R.
GB
09/16/2019
Natalie R.
GB
I recommend this product
Funny & Fabulous
Fabulous item!!!! It's bright colour and bold lettering makes it purpose perfect, whilst at the same time making people smile. Real conversation starter which means I can explain my boys anxiety to fellow dog owners which gives them a better understanding as opposed to them thinking he's just a "nasty dog"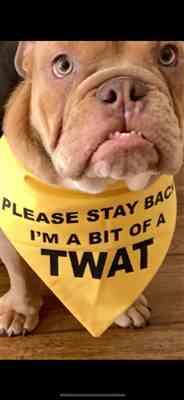 09/16/2019
Emma I.
GB
I recommend this product
Nervous bandana!
Definitely makes people look, and if they're close enough, laugh 😂
09/12/2019
Coral W.
GB
08/22/2019
Kylie G.
GB
I recommend this product
Nervous dog Bandana
I have been out a few times now with Teddy using the bandana and it was great so far. People would see it and walk around or say, oh your dogs nervous. It meant I could keep a safe distance from strangers and dogs. The only thing I found at the start was finding a good place to secure it. Teddy is a bulldog and walks with a Y shaped harness. I was going to attach it to the harness but I use a perfect fit and there wasn't quite enough room anywhere. So I then slipped it down his lead and that worked quite well. It will work in busy and public areas so will definitely help. Thank you, Kylie Grimes
08/19/2019
Aidre V.
GB
I recommend this product
Had a communication issue
The item was fine but had issues using web site and ordered 2 in error. Tried to contact company to rectify and change order for another item, but am ignored? So probably won't use website again.
08/16/2019
Christine P.
GB
I recommend this product
Nervous dog bandana
I love it ,and getting quite a lot of comments!Also asking me where I got it from which of course I tell them
I recommend this product
Bandana
bought this for my ddb who is the only mastiff I've ever had who hates people and other dogs (except his little sister mollie who is an amazing staffie) because my staffie is so overly friendly people just assume reggie is too so proceed to try and approach or touch him so since wearing his new bandana it seems to work a treat wasn't sure if it would offend people but hey ho it works so it stays!!!!! Lovely thick material and sits just perfect round his neck would highly recommend this to anyone who has the same problem with humans or other dogs 👍
I recommend this product
Brilliant
This bandana has not only helped keep people and their dogs away, but also given people a lot of laughs along the way. It sits lovely on my (22kg) dogs collar, held up nicely on all walks and still looks just as clean and bright. The fabric is thick and doesn't crease easy. Has been a great buy so far and feels like it will stand the test of time!
I recommend this product
Still a ****
Absolutely love this... unlike most things we buy for our big guy this actually fits 👍🏼 and as large as he is, he is still nervous of people so this works a treat ***
I recommend this product
Bandanas
The nervous dog bandanas have just arrived they are beautifully made and lovely quality I don't know if they will keep other dogs away but it should give the owners a laugh which is always better than a glare
Additional information
| | |
| --- | --- |
| Weight | N/A |
| Size | Small, Medium, Large, X-Large |
| Wording | Keep back I'm a bit of a twat, Me too |